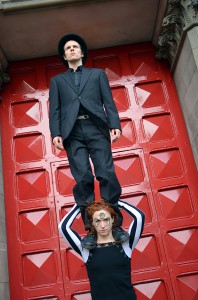 AC:TM is a crowdfunded project to produce radical theatre in Ireland. If you'd like to donate, their funding page is here: http://www.indiegogo.com/projects/anti-capitalism-the-musical
Tell me about Anti-Capitalism – what is it and what is it intended to accomplish?
AC:TM is an acrobatic musical theatre piece – a fairytale set in a near-future political reality that is similar to our own.
It's intended to give a particular spin on a lot of events that have been kicking around the world lately, to inspire a little lateral thinking about how we interact with power structures, and ways in which we could restructure.
Give me an outline of the plot and setting.
Without giving away too many spoilers – the play is full of plot twists and turns, assasinations and intrigue, agent provacateurs, trials, and tribulations! The world is one where the line between magic and advanced technology is indistinguishable. There's a trimvirate of powerful Fairy Godmothers who act as a narrative voice, a Superhero Group who double as minions, and of course – the Emperor Group.
What inspired you to make a musical? Have you ever done this type of work before?
I've been thinking about this musical for about three years now – something that could investigate, with a relatively light touch, subject matter that couldn't be more serious. I've been composing music to accompany my own choreography for roughly the last four years, but I've never actually written songs before. They've sort of sprung from my brain as lyrics and melody, and I've very nervously introduced them to John Linnane, my arranger and co-composer, who has made them in to full songs — a thrilling process! I did grow up performing musical theatre, so I guess I have good honest roots in it – but my professional career has been more in the contemporary choreographic realm.
What is your background? What are you drawing on for this production?
I think I'm drawing most heavily on my sense of humour for this production, thank you for asking. That, and my own personal sense of rage and helplessness about the appalling economic injustice which is ravaging the earth, and many of its citizens.
My own background is fairly varied. I have been dancing since I was a child, and started dancing professionally when I moved to Chicago at the age of 21, after receiving a degree in Theatre from University of Alaska. I have always sung – in choirs, in kitchens, with friends, and started composing my own music after the liberating experience of participating in Regan O'Brien's Kwyer, a guided improvisational vocal ensemble. I stopped dancing for about five years when I had children, and moved nomadically around the US teaching yoga and making friends. I came back to dance and choreography after living here in Ireland for a couple of years.
I started working with the Irish company Croi Glan doing aerial dance, which triggered my interest in circus and acrobatics.
After growing up in the immensely sheltered and isolated environment of rural Alaska, pre-internet, living anywhere else was a massive political awakening. I lived in Chicago, San Francisco, New Mexico, Pennsylvania and Montana before moving to Ireland. With each move I made, my eyes became a little more open to the structures in place around me. I was in New Mexico when the Iraq war was initiated, protesting every day with my four month old baby, when the police started spraying tear gas on protestors (luckily I was travelling that day!). It turned out that police departments all over the country had been ordered by the FBI to do so, and they followed through.
I also found the process of giving birth and becoming a mother to be a highly politicizing experience. The management, the money, the options that money led to — it was very clear, and shocking to me, what a commodity childbirthing had become.
I became interested in collectives after moving to Ireland, and have participated in several. The movement studio collective I'm part of, Fumbally Court Studio, has been the result of a lot of hard work and vision. It functions more like an artist's studio than a dance studio, and I absolutely love working there. As well as dancing, I teach acrobatic yoga there, which is a brilliant community builder (and the best people in the world do it!).
The musical involves a lot of dance and choreography – how do these affect the message?
I'm using the movement — particularly the acrobatics — and the set to drive home different power relations. Sometimes the visual imagery can be extremely striking and poignant, other times it can diffuse tension and lighten the atmosphere.
Tell me a bit about the production – Are the music and songs original?
Everything in the play is original – except, perhaps, the message of it, which is starting to bubble out of every pore of society. I'd love to aid and abet that fomentation, that awakening.
So you're fundraising now to produce the show – what costs do you need to cover? When do you plan to launch the musical? How many shows do you have lined up?
We have two shows lined up currently — the 29th and 30th of March, in Galway. Galway Dance Days has offered support in terms of venue, publicity, and accommodation for more than 20 people. Late March, however, is definitely not the end of the road for Anti-Capitalism: The Musical! I'm not sure what exactly the future will bring, but I think this show could have a very long life span. We're currently looking for a producer.
Our entire existing budget is going to set design and construction. We're running a crowdfunding campaign on Indiegogo to cover additional set costs, plus things without which the show cannot exist, like rehearsal venue, insurance, minimal costume and props, etc. 20+ people, all of whom are professionals with years of training and experience, are currently working on this project for free, full time, for one month. Everyone involved seems to be there because they believe in the ethos of the production, to the extent that they're willing to take a hit financially. They deserve compensation for their labour and I'd love to pay wages. I have professional actors, singers, dancers, acrobats, musicians, and several people who are all of the above. I am thrilled, honestly, to have the weight of this show taken off my shoulders and distributed to the shoulders of so many! It was a lot more daunting when it was just me, daydreaming about it.