By Sylvia Smith
The working class movement is divided into many different trends. Oftentimes these differences are contradictions that have big implications for how to organize and must be struggled out. Whether to support a left wing populist candidate (or even organize against them), how to relate to the trade unions, and other issues of strategy are questions that in the process of organizing can't simply be brushed aside in the name of unprincipled "left unity". Conversely, historical interpretation, political jargon, and other features that define "tendencies" on the Left are unimportant from the perspective of class struggle. Far too often, the latter are confused with the former. But, none of these tactical or strategic questions changes the fact of class struggle. Our goal is the destruction of the wage-system, not a particular strategy being the true means to do so. Anyone who is committed to the emancipation of humanity through the victory of the working class over the exploiting class, by overturning capitalist society, is a genuine revolutionary.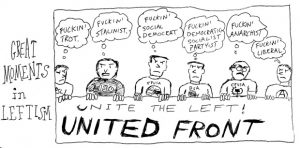 Principled unity between revolutionaries is a powerful weapon for our class. But if we are to achieve unity on a principled basis, we need to know who our enemies are. The first enemy is the capitalist class. This class is the group that pulls the strings and organizes our world for their profit. More abstractly, this enemy is capital itself as a process that turns us, and even the individual capitalists themselves, into tools for its own expansion. Then, there's the boss. The boss is the capitalists' task manager and enforcer in the labor process. They might be the nicest person in the world, or share your same gender, ethnic or religious identity, but at the end of the day, as long as they're a boss, their interests are with capital not with us. Third, there's the bourgeois State. The state presents itself as "democratic" and belonging to you and me but it's a wholly owned subsidiary of the imperial capitalist elite. The state regulates and structures our world so that capital can accumulate and property is protected. Even the beneficial things the state does happen for the interests of capital by making us dependent on their bureaucrats and preventing social disorder. It might be that our class needs a state of its own, but the American state that exists now is the enemy of all revolutionaries everywhere. Fourth, like the capitalists' lapdog the boss, the state has their trained dogs in the form of the cops. As long as someone is a cop, their duty is to enforce the protection of property, suppress the lives of marginalized people, and maintain order for the interests of capital. So, if these are our enemies, when a revolutionary is attacked by them, regardless of their tendency or tactical views, it's a part of the class war. As revolutionaries, we have a duty to defend even those revolutionaries we may personally disdain or may have acted in uncomradely ways towards us when they're the target of these forces.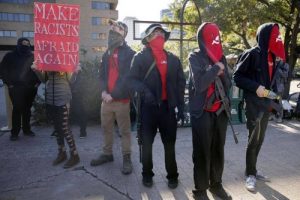 This brings us to the events of March 9th in Austin TX. At midday, the cops arrested an individual whose politics align with the Maoist cell Red Guards Austin, who goes by Dallas, for illegally possessing a firearm as a felon. The laws which Dallas has been charged under are specifically targeted towards the working class and its ability to defend itself. Felons are disproportionately workers, particularly poor, unskilled laborers and people of color. This is not because these groups commit crimes any more than the petty bourgeoisie or white people but because they're more actively surveilled and systemically targeted by the state. Black and white people use marijuana at roughly the same amounts, yet black people face drug charges at significantly higher rates; this is because the police are actively targeting working class black communities. Restrictions on gun ownership among felons are a racist anti-worker policy designed to maintain the social order that preserves the wage-system. There are countless actions the capitalist state inscribes as felonies which are good from the perspective of the working class and revolutionaries, while there are countless evil acts of the capitalists which are not criminalized but do serious harm. Go AWOL in the army or assault the slumlord evicting your disabled grandma, and you have your right to bear arms stripped away. If you order the massacre of people in an occupied country, or you throw a disabled elderly woman on the street to die, your right to own guns isn't touched. Dallas "earned" his felony for merely spray painting on a wall as a kid. The right to bear arms, allegedly meant to protect us from a tyrannical government, is only left to those that willingly submit to our globally tyrannical government's "order." That the second amendment is a hollow sham based on the lie of bourgeois equality under the law does not mean we shouldn't resist attempts to roll back what protections it does offer or concede to the disarmament of working class communities. We can't be under any illusions that the second amendment exists for our class, but Marxists know that rights are asserted by the people, not granted by legal documents. Revolutionaries must demand by action our right to collective armed self-defense. This isn't about Dallas as an individual; he needs to be defended as a part of the defense of our class as a whole.
As a member of the Communist Labor Party, which is a part of the Marxist Center current, I have very few nice things to say about RGA generally, or Dallas specifically. Red Guards Austin is a highly sectarian and dogmatic organization that embraces all the worst traits of the New Communist Movement of the 1960's, and many of their dynamics are outwardly very reminiscent of Evangelical Christian cults.You can see how lavish and beatific their praise of Dallas is in their article on his arrest. (Linked below)
There are many examples of RGA's sectarian practice against many groups within the Marxist Center milieu. For example RGA has launched repeated smear campaigns against Austin Socialist Collective members like Andrew Dobbs with outlandish claims of ASC's alleged fascist nature (such as accusing Dobbs of being a cop with no evidence). They engage in childish name calling, referring to Marxist Center as "Menshevik Center" with no real understanding of what Menshevism was. RGA has a longstanding history of publicly harassing people who they perceive as enemies. Members of RGA have threatened physical assaults against members of the Communist Labor Party because the CLP runs dual power programs under the name "Serve the People" which is a name they believe should only be used by Maoists. These threats are just posturing, as there is no overlap between the geographic activity of either CLP chapters or any of the Red Guards' affiliates. This hyper-sectarianism isn't limited to being directed towards the CLP. RGA has repeatedly attacked as "revisionist" many other groups  that have very similar Maoist politics to them and which have also committed to the revolutionary victory of the working class. RGA has stated their intention to liquidate revisionists by force when they launch the Protracted People's' War in their text "Condemned to Win". Instead of seeing these other groups as misguided fellow revolutionaries to be won over, they're heretics to be burned in RGA's righteous inquisition. Further, RGA has behaved extremely dishonestly about their relationship with their front groups like Serve the People Austin, Revolutionary Student Front-ATX, and the former RATPAC-ATX, now Stonewall Militant Front. These groups have leadership and personnel which heavily overlaps with RGA, and share an identical line on every issue. They allow in non-Maoists and non RGA members, but only insofar as they accept the political lines of RGA or are willing to subject themselves to struggle sessions. This defence of Dallas is not borne of any love for RGA, Dallas himself, or sympathy with their Marxist-Leninist-Maoist line; it's a defence of Communists everywhere.
Many left wing groups act in a sectarian manner. They mistake differences between revolutionaries as differences between enemies. This is one of the worst legacies of 20th century socialist parties. For Marxist-Leninists, Trotskyism was taken not as a bundle of theories and practice that were counterproductive, but instead as an existential threat equivalent to fascism. Likewise, both sides of the Sino-Soviet  split around the world saw each other as threats to be physically liquidated. Even if their methods and analysis were mutually exclusive for the working class to adopt, their true enemy sat with glee in their mansions as our movement devoured itself. Our forerunners wasted essential energy on the wrong target.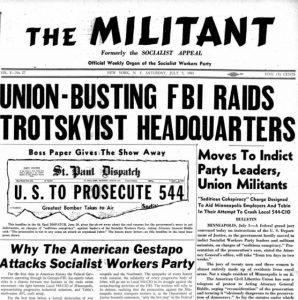 A stark example of mis-identifying enemies is when the Communist Party, high on its relative success in the Popular Front against fascism, cheered on as Trotskyists in the Socialist Workers' Party were thrown in prison under the Smith Act. The CP, under orders from Moscow, temporarily aligned itself with the populist liberal capitalist forces in the US government in order to defeat Nazi Germany and support the survival of the Soviet Union. The SWP, however, saw WWII as an inter-imperialist conflict rather than Nazi Germany being uniquely evil among capitalist powers. This meant it was the duty of revolutionaries to undermine the war-effort and attempt to overthrow their imperialist government.  The Socialist Workers Party organized strikes during WWII while the Communist Party helped break strikes in factories they had a strong presence in. Their line mirrored the line Lenin and the Bolsheviks took during WWI while the CP's mirrored that of the majority of the Socialist parties of that era who backed their own governments against the threat of German aggression or Czarist despotism. But, the contexts of WWI and WWII were different and so those lines had different implications for the class struggle. Far from Nazi enablers though, the Socialist Workers Party was at the forefront of the fight to physically confront fascists in the United States in the run up to and during WWII. The Communist Party on the other hand, following Moscow's line during the Molotov-Ribbentrop Pact, went from fierce opponents of fascism to apologists for German and Italian national interests while withdrawing from the fight against the American Nazi movement. The SWP defended Jewish workers from assaults by the fascists at the same time as the CP was accusing them of being aligned with Hitler. With hindsight, we know that the SWP was wrong to consider the Nazi government in Germany as just another imperialist power, but their line did not change their character as revolutionaries working to overthrow the capitalist class at home. Cheerleading the suppression of the SWP was cheerleading the suppression of the working class movement.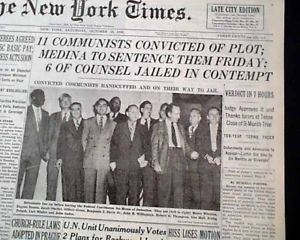 Shortly after the SWP leaders were rounded up, the leaders of the Communist Party were themselves thrown into prison under the same Act by the US government. The irony was not lost on the SWP, who to their credit, stood with their fellow revolutionaries in the CP and fought for all of their democratic rights. It didn't matter that the CP backed the Stalin regime, had assaulted their organizers, or was aligned with the same forces that organized the murder of Leon Trotsky himself. The class struggle was more important. The SWP rightly saw the CP as fighters for our class, even if they were bitter opponents of their line, and them as an organization within the struggle to overcome capitalism. Even if the SWP's actions indirectly aided the Nazi war machine, it was clear that they were opposed to Nazism, even more consistently than the CP. Would their their suppression have really helped defeat Nazism or increased the power of the working class?
The fratricidal conflict between the CP and SWP undermined both groups. Instead of cooperating when necessary on strikes or focusing on different parts of the struggle when their methods and ideas did run into conflict, they spent valuable resources focused on denouncing and undermining the other. For every page spent calling Earl Browder a Stalinist stooge in the SWP's paper The Militant, or trying to show the SWP were Nazi fifth columnists in the CP's paper The Daily Worker, there was a page not spent giving a voice to black sharecroppers organizing themselves or Italian immigrant meat packers leading a strike. That doesn't mean laying out differences or criticizing other leftist groups with bad ideas wasn't important, but denouncing in hyperbolic language, that misidentifies other communists as enemies, does nothing to explore the real stakes and differences.  Both parties held lines and organizational principles, inherited from the necessities of the Russian Revolution, that ultimately led to their degeneration, but defending one another from their common enemy was the revolutionary thing to do.
I have no interest in organizing alongside elements that are destructive and sectarian as Red Guards Austin or Dallas specifically. At least not until they begin acting in a non-sectarian and comradely manner towards their fellow revolutionaries. They represent a current within the working class movement that has destructive theory and practice, and which stands in the way of scientific socialist organizing. But, an attack on them by the state is an attack on a part of the working class movement, no matter how wrongheaded and small that part of the movement is. I hope that members of RGA are able to rectify the destructive aspects of their organizational model which lead them to sectarian attacks towards other currents in the working class movement, but whether they do or not, all revolutionaries have a duty to defend them, insofar as they're revolutionaries, on principle. It's clear from details like the cops leaving a "Make America Great Again" hat, and the possible use of an informant, that the police are attacking Dallas not for his faults, but because he is a revolutionary communist.
An injury to one is an injury to all!
More information about the arrest from RGA can be found here: https://redguardsaustin.wordpress.com/2018/03/14/defend-comrade-dallas-and-fight-for-his-freedom
EDIT: it's been brought to my attention that there's also repression of similar degree against a member of NABPP-PC (New African Black Panther Party-Prison Chapter) and SPARC (Supporting Prisoners and Acting for Radical Change) named John "Mac" Gaskins. This isn't an endorsement of Gaskins' politics which are largely unknown to the author but both orgs do important work.
More information can be found here: https://www.gofundme.com/mac-gaskins-legal-defense
EDIT: It's come to the author's attention that members of RGA are confused as to who this historical analogy is about. I am not comparing them to the Popular Front era CPUSA. I am saying those that would let them hang out to dry are like them. I'd more aptly compare RGA to the ultraleft Bordigist elements that cooperated with the SWP in fighting fascism in NY while simultaneously acting in a viciously sectarian manner towards most of the left and with similar bloody aspirations towards other revolutionaries. But none of these historical groups cleanly map to today. The primary commonality between the historical Bordigist and MLM currents is their total disconnection from any kind of social base.
It's also incedibly telling that in their criticism they cite my reference to history and past left groups as evidence of my lack of understanding of things when finding historical trends, analyzing sociology in a materialist way, and so on is the very essence of historical materialism. It betrays their lack of familiarity with Marxism as a social science rather than as a dogma. Appealing to Mao's criticism of the Comintern in no way would free them from reproducing the same tendencies which manifested themselves then in the Comintern.