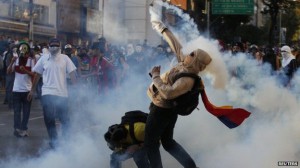 In that last few years there have been numerous mass demonstrations which lead to changes of government, including in Egypt and the Ukraine. During this period the United States has been a major player in attempting to destabilise democratically elected parliaments or presidents.
The recipe for destabilisation of a democratically elected government can be seen from documents regarding Venezuela and the Ukraine 1 2 3
a) Build up a narrative of general discontent based on real grievances of the population – (ironically many of these grievances are directly the result of capitalist policies).
b) Facilitate mass demonstrations using NGOs and funding of various mobilising groups to give voice to these grievances in order to delegitimise the government.
c) Use press releases and connections in the media to create a barrage of sympathetic media.
d) Use paramilitary or military connections to ensure sufficient "hard" backing to the soft power, increasing the likelihood of the current government stepping down.
e) Have a shadow government in waiting for the replacement of the current one.